Bachir Hanbali Est. is a Lebanese-based company founded in 2001. We have headquartered stores located in Mazraa district, one of Greater Beirut's neighborhoods. Our experience in the field of CCTV and security solutions exceeds 20 years. We provide exceptional services to hundreds of corporate clients like local banks, embassies, governmental ministries, municipalities, malls, hotels, businesses, as well as residential units.
We offer high-end security solutions products and services at competitive prices. Our aim is to promote our business, but also our sole priority is ensuring our clients' personal safety and wellbeing.
At Bachir Hanbali Est., we seek to build long-lasting relationships with our valued partners based on two key pillars for success, trust and respect. To ensure our clients are satisfied, we never underestimate the importance of our high-quality service and after-sales assistance. Our main partners are leading brands like Dahua,  IMOU, and Ajax.
Since 2009, we have also been the main local distributor for Dahua in Lebanon. We have established partnerships with leading suppliers around the world. Our key partners deliver cutting-edge technology for your safety and security. Namely, CCTV, VDP, Access Control, Mobile and Traffic, Intelligent Class Rooms and Video Conferencing, as well as Alarm Systems.
Over years, we were able to establish an outstanding reputation in the local market which allowed us to become reliable wholesale suppliers. Today, we have numerous sub-dealers and integrators who depend on our items for their ventures.
We sell a wide range of high-end products. Our business catalogue comprises: professional surveillance cameras (IP cameras, HDCVI camera, PTZ camera), network recorders, access control, video transmission solutions, videophone products, alarm systems, and accessories.
Bachir Hanbali Est. is your ultimate destination if you seek safety, security, and premium quality products and services. Our professional team is ready to assist you from the moment you step in! We guarantee an exceptional experience for your entire purchasing journey. From the sales process to the after-sales services like maintenance, our customers will surely find what they desire.
"Bachir Hanbali Est. is highly concerned about your safety and wellbeing."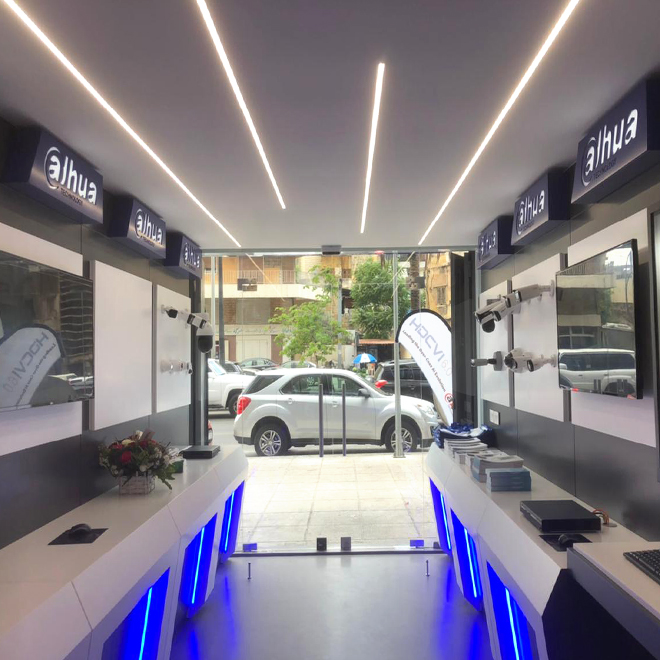 Our Philosophy:
We care about our customers' safety and wellbeing. We constantly strive to establish long-term relationships with our clientele.
Our Mission:
Secure. Satisfied. Supported. This is how you will feel. Our mission is to offer high-end security products and services.
Our Vision:
Our vision is to build a safer community. This is something we guarantee through focusing on premium quality and dedication.
We are committed to enhancing the level of security at your business or residential unit from the moment you step in to our headquarters.

DH Partner APP
Upgrade with brand new UI and a plenty of new functions. Download the App now to experience your handy business platform at your fingertips!